Tic Tac Toe Assignment Activities
1.
About the Festival
: Click on
this link
and follow the directions on the page.
2.
The Form of a Jazz Song
: Play this video.
On your paper, write two words to sum up each "speech bubble" as it comes up and answer the question at the end of the video.
3.
Anthony Stanco
:
View the pictures and videos of "The Anthony Stanco Quartet" and "Modern Jazz Messengers" in this slideshow.
On your paper, make a list of instruments and equipment you see at the festival. Circle the instrument that Anthony Stanco plays.
(Hint: Anthony Stanco is the only musician who is in both bands.)
4.
Words to Describe Jazz
: Watch the 4 videos in this playlist.
On your paper, make a list of words that are used to describe jazz music. Add one of your own!
5.
Journeys into Jazz
: Click on the picture below to watch the video. Share headphones so you both can hear!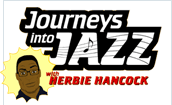 6.
Alexis Cole
: Watch this video. Listen for directions about what you need to do on your paper!
7.
Who Likes Jazz?
:
On your paper, list all of the different types of people (or animals) who are enjoying the festival.
You will have to watch it several times to write everything down!
8. Click on the following link to watch a presentation. At the end, click on the link that says "Jazz & Abstract Art." After watching the presentation and the video,
list 3 similarities between abstract art and jazz on your paper
.
9.
Things to Do in East Lansing
: Scroll through the image below.
On your paper, write down 3 events (+dates & times) that you would like to attend.

Special thanks to my cousin Kathryn for her photography and videography and to the MAET program at MSU for inspiring this lesson!